WELCOME TO SOUTH KALGOORLIE PRIMARY SCHOOL
On behalf of the South Kalgoorlie Primary School community we would like to extend a warm welcome to you and your family as your child/children commence or continue their education here.
We have proudly served the Goldfields since 1904 and hope that your association with South Kalgoorlie Primary School will be a rewarding and enjoyable experience.
We believe that the communication and exchange of information between family and school are of great importance.
We look forward to getting to know you, working in partnership with you and having a common goal of meeting your child's educational needs.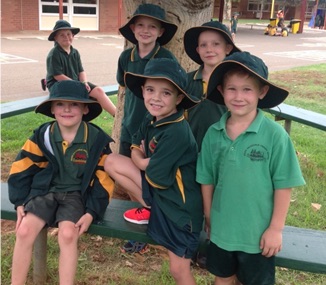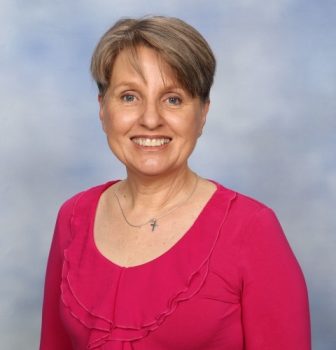 Everyone is a genius. But if you judge a fish on its ability to climb a tree, it will live its whole life believing that it is stupid. (A. Einstein)
For more than 100 years, South Kalgoorlie Primary School has played a vital role in the education of children.  It is a school renowned for being at the core of the South Kalgoorlie Primary School Community. Our highly qualified staff show a genuine interest in each child's development, encouraging each one to strive for their personal best.
South Kalgoorlie Primary School provides a rich and varied programme of opportunities, including physical education, music, technology and art.  Every day we teach the Five "You Can Do It" Keys of Confidence, Persistence, Getting Along, Respect and Resilience to enable our children to develop the  skills to be successful and happy in our ever-changing world.
One of my favourite images of South Kalgoorlie Primary School is when the children and parents leave the undercover area in the morning and the green tide surges across the long expanse of lawn, children laughing and chatting, some running ahead, some deep conversation. The energy and enthusiasm is palpable as they move towards a new day.
Ours is an environment in which I believe children learn and grow best, and at the heart of their experience is great relationships and sharing.  We strive to ensure that parents and families are strong components of our community and children's learning.
South Kalgoorlie Primary School is all about children discovering their best. We want our children to be engrossed in the exploration of ideas, to be self-motivated and self-directed, to delight in trying something new and to contribute positively to the community.
Above all, we want each child to discover who they are, who they would like to be and how to be that person; and to recognise that at the heart of happiness and success is knowing yourself, understanding others and being a good human being.
I look forward to welcoming your family to South Kalgoorlie Primary School.
School History
South Kalgoorlie Primary School was opened on the 8th of August 1904 with an enrolment of 118 students. The school was intended to accommodate 150 students but by the 28th of September 1904 the school had an enrolment of 205 students. On the 13th of January 1907, there were 311 students on the roll. Numbers at the school continued to grow with concerns constantly raised about the lack of space for classes.
Throughout the life of the school the original buildings have been removed and replaced with new ones. The Bell Tower which was constructed with some of the original school bricks is a focus of the school and helps to retain a link with the past. Although the face of the school has had many changes over the years, the spirit of the school has not changed. South Kalgoorlie Primary School has always had a strong connection with students, staff, parents and community alike. The school prides itself upon decades of academic achievement and community support.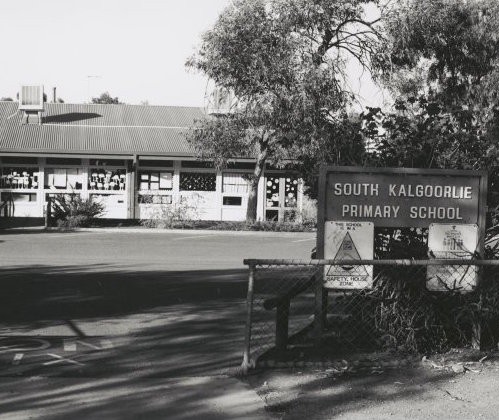 At South Kalgoorlie Primary School, we value confident and responsible students who are engaged and motivated to learn. We strive to achieve a holistic and inclusive learning environment encompassing academic excellence, values and social skills by catering for all abilities and learning needs. Students develop confidence, organisation, persistence, resilience and getting along skills; an all round "You Can Do It" attitude!
School beliefs
We believe in:
encouraging each student to achieve their personal best in all undertakings;
acknowledging, respecting and celebrating the efforts of others;
a flexible, caring and supportive learning environment through collaboration;
valuing each student as an individual and accepting that they are unique and learn with different styles;
developing and maintaining relationships between fellow staff members, students and parents based on respect, trust and open communication;
a student centred approach to learning that maximises their development;
providing developmentally appropriate programs which optimise student opportunities to learn;
students learning best by reflective practices and ongoing life experiences;
student learning best by being encouraged to develop multiple intelligences across all different domains;
students accepting responsibilty and actively participating in their learning experiences; and
students benefiting when all staff have a consistent and comprehensive understanding of current curriculum and teaching strategies.